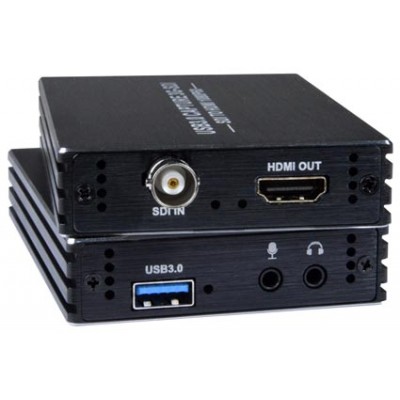 Network Technologies Inc (NTI) today announced the addition of the 3G-SDI to USB 3.0 Video Capture Device with HDMI Loopout to its popular line of SDI products for broadcast-grade video. It is used to record or stream an SD/HD/3G-SDI signal via USB 3.0 at up to 350 MB/s.
The 3GSDI-USB3-CPTR-HDO converts SD/HD/3G-SDI and stereo audio input signals to high quality USB 3.0 output. It is compliant with UVC and UAC standards. The UVC protocol allows the host computer/laptop to set the parameters for the USB stream such as resolution, frame rate, and aspect ratio. Content is easily streamed online, since the device is compatible with most third party software, such as: OBS, Zoom, Teams, Twitch, YouTube, Facebook, Twitter, etc.
The 3G-SDI to USB 3.0 Video Capture Card features an HDMI loop output for local display, as well as separate 3.5mm stereo audio input/output connectors. It auto-detects 3G-SDI, HD-SDI, or SD-SDI format, and supports SMPTE 259M-C, SMPTE 292M, SMPTE 424M, SMPTE 425M Level A and B video interfaces used for broadcast-grade video.
Available for immediate sale, 3GSDI-USB3-CPTR-HDO 3G-SDI to USB 3.0 Video Capture Card with HDMI Loopout costs $150 each. It is ideal for live broadcast, online meetings/classes, gaming, houses of worship, and other A/V applications. For more information, visit www.networktechinc.com/3gsdi-usb3-capture.html.
About Network Technologies Inc
Network Technologies Inc (NTI), established in 1984, is a leading manufacturer of high quality IT and A/V solutions. NTI products (environment monitoring systems, multiviewers, extenders via CAT5, audio/video matrix switches, and KVM switches) are designed, manufactured and tested at the company headquarters in Aurora, Ohio, and are backed by a two-year warranty on all parts and labor. NTI products are used worldwide by leading companies in every industry, including manufacturing, retail, government, education, healthcare, financial services, entertainment, worship, broadcast, and telecommunications. NTI is dedicated to delivering solutions that are of exceptional quality, reliable performance and innovative technology. For more information, visit www.networktechinc.com.
AlertMe